Popping my TMI Thursday Cherry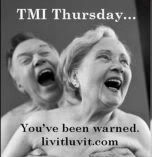 I'm off in an attempt to humilate myself because
Livit,Luvit
and company have inspired me.
I could choose to tell an array of embarrasing stories, as there are probably about a vault full of moments I will not live down. I have often been called an over-sharer, as I take pleasure in confessing when I've been bad. It's cathartic, right?!
I will do myself a favor, though, and give you TMI about an event without moral ambiguity or downright legality issues. This is, afterall, my first time. Be gentle, dear readers, be gentle.
So. A few years ago I attended a wedding in northern Ohio with two of my restaurant friends, straight girl (SG) and gay guy (GG).
SG drove, and we smoked cigarettes and sang showtunes the whole way. I don't recall if there was a traffic delay or if we took a wrong turn -- or if maybe it just took a bit longer to get there than we expected -- but we were running late. SG whipped her car into the lot and we raced toward the church in our dresses, as GG trailed behind in a lovely pink shirt and tie. We tugged on the entrance: locked. We tried another door, to no avail. Across the parking lot, we see a couple heading into the building on the other side of the cars, snuggling together under a huge umbrella and toting a wedding gift. Oh, so it's in
that
building.
We sprint to the correct location, sopping wet, and manage to get ourselves inside before the bride(B) walks down the aisle. She is, in fact, getting ready to walk down the aisle, as she and her father are standing at the double doors alone. She is bitching about the music ("They weren't supposed to play that for this
long!!"
) when she spots us.
B: "What the fuck happened to you guys?"
We were sopping wet from rain, hair once perfectly coiffed now hung in watery strands around our faces. We decided that the whole event was very much like the movie
The Sweetest Thing --
remember, when Christina Applegate and Cameron Diaz had a gas station restroom incident involving a glory hole? SG even got to utter "Hey, look, it's Jesus!" to a kid who wouldn't turn around during the ceremony.
I'm getting to the TMI part, I swear it! So, after the open bar reception (which also featured paying a dollar to dance with the bride or the groom and getting a shot of peach schnapps in return) we headed to a little dive bar with the bridal party. I was already so smashed at that point that I thought we took a cab there, but as it happened we were driven by the mother of the bride.
Here's where the TMI begins, and it involves SG (straight girl, remember?) and yours truly (also SG!) locking lips in front of pretty much the entire family of the wedding party after SG tripped on the dance floor, latched on to me to try to prevent falling, but only succeeding in taking me down with her. It all made sense at the time: SG, GG and I were trying to determine who between us was the best kisser. We ended up spending the night at mother of the bride's house with the entire wedding party. We hadn't planned to stay, but were invited. (Clearly. We were the life of the party!) It was within
stumbling
walking distance of the bar.
So. Flash forward to the next morning. I'm so hungover I can't even sit up on the car ride back to Louisville. I mean, SG and GG want to stop at McDonald's for Filet-O-Fish and I am curled up in the fetal position wishing for death, which seems the only sweet release from the pounding in my head. We drive and drive and drive and are almost back into Kentucky when it's time to stop for gas. I tell the pals I'm gonna head in and get a sprite and take a tinkle. I'm barely out of SG's Scion when it hits me. I am going to be sick. I am going to explode. From both ends. I can't decide which I want to do more: projectile vomit or projectile poop.
I get myself inside, and it isn't like we're at Thornton's or some high class gas station. This is a one rung above a rest stop type joint.
I make my way to the restroom, praying I make it. Thankfully, the ladies room is vacant... I push open the door and I can't believe my eyes. Two toilets, no stalls. Right there was my salvation. Down go the pants, and I get on toilet number one for sweet release and begin to heave chunks into toilet number two, simultaneously. I couldn't wait to get back to the car to tell my friends of my good fortune.
Both SG and GG are still in love with the story of the time Amber puked and pooped at the same moment, and no one had to call for clean up.
***************************************************

Check out more TMI stories
here
.