TMI Thursday: Video Killed the Radio Star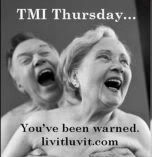 A few things:
1. Clearly, there are really no excuses to justify what you see above, unless you count that it was my bachelorette party, the last stop of the night, and that I didn't puke once and was allowed to sing twice.
2. The
heartless bitch
bridesmaid who made this dvd for me is no longer my friend.
3. I once won $50.00 in a karaoke contest.
I am not sure I will ever be able to top this post, but here's hoping. Be sure to check out
LiLu's TMI Thursday Post-Secret Edition part two!