TMI: Christmas Edition (subtitled, the 100th post had to be good.)
It's a banner day here at musings of amber murphy. Not only is it Christmas Eve (eggnog: check!) and TMI Thursday (hilarious humiliations: check!) but I am also celebrating my 100th post. I thought about linking my most memorable posts -- my favorites, the ones that got the most comments -- but that just seemed like a ton of work to do on a holiday. Instead, I'll opt to focus on the present, and post a TMI for the ages. I'll give you so much information, in fact, that you might regret ever being mildly amused by my TMI Thursdays. Are you ready for this?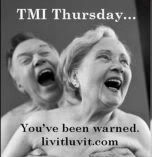 I went through this phase. I fondly refer to it as my six-month bar-slut phase. It started smack in the middle of the summer in 2002, and basically ended just before I started dating my future husband in early 2003.

(Three years from now I can say this all happened a decade ago. I sort of look forward to that milestone.)

In July of '02, I ended a two year relationship. Instead of spending weekends curled up with the same boy, watching movies or making googly-eyes at one another, I was free to go out and do as I pleased.

Newly 21, I started frequenting a karaoke bar with my friend, whose privacy I shall protect, since I passionately blame her for what comes next. (Why? She recomeneded the karoake bar.)

I was never that kind of girl, back before the endless rounds of beer and tequila shots started flowing as easily as Mariah Carey's Without You did from my drunken lips. (And Allison Kraus' When You Say Nothing At All. And Jann Arden's Insensitive. And Deana Carter's Strawberry Wine. And Jewel's Foolish Games. And Faith Hill's Cry. Yes, I was also a karaoke whore.)

The first boy was named Sean. He was an IU fan, like me. He drank Coors Lite, like me. He ate meat. After two serious relationships with vegetarians, this fact alone made me certain he was my destiny.

He wasn't.

I'll spare you the gorey weekend-details of the many, many men the few lucky men (insert small-ish, appropriate number here) who came to know Amber Leigh Tidd-not-yet-Murphy over the span of those hazy months.

But, this TMI belongs to a dee-jay. He was really the last of my conquests, the end of the list of first names boys I remember with fondness. Dee-jay was a passionate Pittsburgh Steelers fan who was allergic to wool and shared my love of slow dancing to Journey songs.

Oh, and he had a girlfriend.

Dee-jay and I weren't doing anything wrong. We just hung out a ton. I don't remember why his old lady was never around. Maybe she worked nights. Went out of town a lot? Just didn't care that he was out all the time? Who knows.

Well, by Christmas Eve, I was just absolutely smitten. After opening gifts with my parents and my sister, I rushed off to meet dee-jay at a bar for karoke and Christmas gift exchanging. (If I remember correctly, I spent a small fortune on a Steeler's blanket that wouldn't make him sneeze, and he bought me a few beers.)

That night we had our first kiss. Yes, Amber the home-wrecker and dee-jay the cheater, shared a fantasic little snog under twinkling white lights on the bar patio. It would have all been very romantic if he hadn't been such an asshole.

Our "relationship" was one of possibilities, which we talked about through Christmas and into the New Year, celebrated together at the karaoke bar where it all began, clinking our plastic glasses of champagne -- but not kissing of course, in a bar full of people who knew he was dating someone else.

Over the phone the next day, he wanted to know a few things. If he left his girlfriend, would I understand that if he and I were together, there would be certain things he would expect? The money, for instance. He would be the one in charge of it. Oh, and in the meantime, I shouldn't be dating anyone else. It was important that I be faithful to him while he weighed the options of ending his real relationship.

In early January, the bathroom in my apartment was gutted for repair. Still toying with the idea of seeing where things went, I headed to dee-jay's house for a shower. He obsessively made sure I didn't leave so much as a strand of hair for his girlfriend to discover. We got all snuggly on his couch, and he asked if I spit or swallowed, because, in a relationship, he expected the latter.

Neither, I told dee-jay. Neither.

Whew! I didn't expect to go there, today. Thought I might keep it tame in the spirit of Christmas. And where, prey tell, does Amber get her redeeming qualities? Is it in the willingness to share her indescrestions? Do you still love her?
Don't forget to check out
Lilu's
blog for all the tragic Thursday tales. TMI goes great with spiked eggnog, and is the perfect stocking stuffer.
Merry Christmas, bloggy pals.