TMI Thursday: in which i won't tell you about that.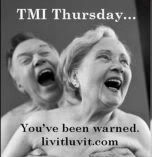 Oh, alright. You didn't ask for this, so I won't tell you.
I won't tell you about the explosive way I decorated the back end of the toilet seat yesterday during my lunch hour when I almost didn't make it to the loo...
or the details, including the way it happened -- in which I began decorating while still in hover mode, pulling down my pants with an urgency...
or that after I cleaned up my earth-toned artwork and was back in the living room touching up my Wednesday blog post that felt a little something chilly near my tail bone, and had to change my panties.
No, I won't tell you about any of that.
Because even though being a poopy-pants certaintly fits the TMI Thursday category, it's just far too disgusting to admit that I can't get my pants firmly around my ankles and seal my ass to a toilet seat on time at the age of 28.
I mean, seriously, that's repulsivespice.
Who would read or comment on a blog post like that anyway? What well-adjusted adult would be able to relate?
This post is brought to you by UPS. (Unusal poopy situations.)
What can brown do for you?
Check out Lilu's blog for more tragic (and less smelly) tales.