TMI Thursday: in which there is a sleepver dance.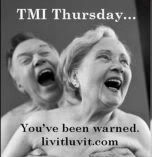 So, one of my girlfriends hosted a sleepover a couple of weeks ago. There was sushi. There was a pretty intense game of
I Never.
There was karaoke, oh yes, there was karaoke. But before that there was dancing. The hostess is the gal on the floor in the beginning of the vid. I was the camerawoman. It should be mentioned that fair hostess passed out about four minutes after the song ended, but is still fiercespice.
This post likely will not stay up long, because I would like to remain friends with said hostess. (p.s. There is one tiny word that merits a language warning before clicking play.)
Don't forget to enter my
contest
if you haven't already.
And, as always, be sure to visit Lilu's blog for more tragic tales.