TMI Thursday: in which I ask rhetorical questions
If i do consent to "trying harder" in the baby-making department, is it wrong to hope the kidlet arrives in the middle of March so I can take maternity leave during the basketball tournament next year?
Is it weird that I haven't gotten my hair cut since last October, and am sort of procrasinating solely because I am obsessed with finding and splitting my split ends?
Should I remember the last time I ate a god-honest vegetable?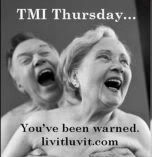 Is it bad that I used the phrase "flicking the bean" at work today?
Should I be worried that I haven't changed my oil since I purchased my car in August?
Is it wrong that as I type this, I keep shooting the husband mean faces every time he opens his mouth to say anything at all? (I'm busy, dude. Shutitspice.)
Is it wrong that I didn't shave my legs on purpose today, because hubs called in sick to work and therefore is not entitled to sex tonight? (You remember, right. When you were a child and stayed home from school because you were *cough* not feeling well, then you didn't get to go out any play with your friends at 7:00 that evening even if you were miraculously feeling
like you wanted a blow job
[opps, that was hubs] better?)
Are you jealous that in spite of the previous two rhetorical questions, hubs is now making my dinner?
Finally, is it obvious that this rather tame TMI Thursday is completely because I am distracted by the first round NCAA games? (I didn't blog at lunch. I was at a sportsbar watching the end of the Notre Dame loss and the first OT of the Florida game. Duhspice.)
Don't you hope next weeks TMI is jucier?
Aren't you just sure I'll deliver?
Check out Lilu's blog for tales more tragic than this one.