TMI Thursday: in which i should have said nothing at all
Nice pants, wanna... ?
So, a couple of weeks ago the manager at my branch had a super busy day. He didn't even take a lunch! He was literally in his office all day long, bombarded with customer after customer.
Suffice it to say, when he came up to the teller area at 4:45, he was famished and informed us that he was going to "lunch" and would see us all on Monday.
After the obvious, "Yeah, go on and go. You must be starvingspice!" I went ahead and decided to compliment his wardrobe. (Nothing wrong with staying on his good side!)
(Plus, he had on this light purple shirt, a sharp looking tie, and black and white [kindofhot] pin-stripe dress pants.)
So, yours truly tells him, "You know, I really like your outfit. I just noticed, because
I haven't seen your pants all day!
"
One of my tellers turned beet red and burst into boy-giggles. "Are you aware of how that sounds?!"
Oh.
So, I had to admonish my teller. "Mind! Gutter!" (Get yours out of it.)
Yeah, so that was funny.
Open Mouth - Insert Foot Hand
I almost got to tell this story to a room full of colleagues yesterday at a work-thingy, because we got to tell funny slash embarrassing bank stories. (And, you know, I do have a few of those which I actually can tell in mixed company.)
Sadly, I didn't think of this anecdote until later, so the prize went to a lady who once
eeked!
at a mouse in her night depository. (Big whoop.) (Yes, I am a sore loser.)
But I digress.
I had this customer at my old branch -- super cool guy, friendly and
real.
We could greet him with a "What's up?!" instead of with a stiff, "Welcome back to such-and-such bank where I work."
This particular guy has a hook where his right hand should be. I don't know what happened. Either I've never asked or I did ask once and have since forgotten the story. (Sometimes I'm
a little self-obsessed
not a very good listener.)
Point being, it used to be all awkwardspice, but I got over it.
Until: one day he was dutifully stamping his checks for deposit, and I blurted out...
"Can I give you a
hand
with that?!"
Don't misunderstand. I didn't place emphasis on the word hand, because I wasn't being cute. Still, when I realized my poor choice in words, I was mor.ti.fied. I mean, who says hand to a guy who has a hook where his hand should be?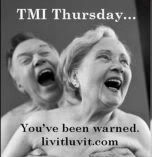 I couldn't breathe. I sort of wanted to laugh. But, no, I had to complete his transaction.
We started chatting about something mundane -- maybe something practical he bought -- I can't recall what, exactly, because I've semi-blocked it out.
I was all, "Oh, yeah. That sounds awesome! I'm sure that comes in handy!"
I said to myself, "Self? Seriously?!"
Check out Lilu's blog for more tragic tales!